Zendesk for Startups Programme
A programme built for growth
Zendesk makes it easier to support your customers using our customer service, engagement and sales CRM solutions. Qualifying early-stage startups get Zendesk free for six months.
Customer support software that's scalable and easy to use
Reach your full potential
Manage customer interactions in one place
Arm your team with software designed to resolve customer enquiries and issues quickly via messaging, live chat, social, email and phone.
Unlimited access
to our community
Engage with our community of founders and customer experience leaders. Learn best practice, grow your network and strengthen your business strategy with expert guidance.
The cost to you?
Nothing
We know that the price matters, so the first six months are on us. During the programme, you have unlimited access to Zendesk products and training.
Powerful capabilities
Build a service solution
that works for you
Do more without increasing headcount. With our AI powered capabilities, you can set up chatbots to provide support even when you're logged off. Use AI to suggest help centre articles and respond to FAQs.
Multitasking is second nature to you, so accomplish even more with powerful automation. Do things like automatically route a customer to the right team member or instantly respond to a ticket with predefined answers.
Integrate the apps you use
Integrate and connect over 1,000 apps like Slack, Jira, Segment, Mailchimp and more, so you have a complete view of your customers. You can even build customised apps using our simple APIs.
Collect real-time analytics
Make use of reports and analytics to review how your team is performing or spot recurring customer trends. This way, you can make the best-informed business decisions.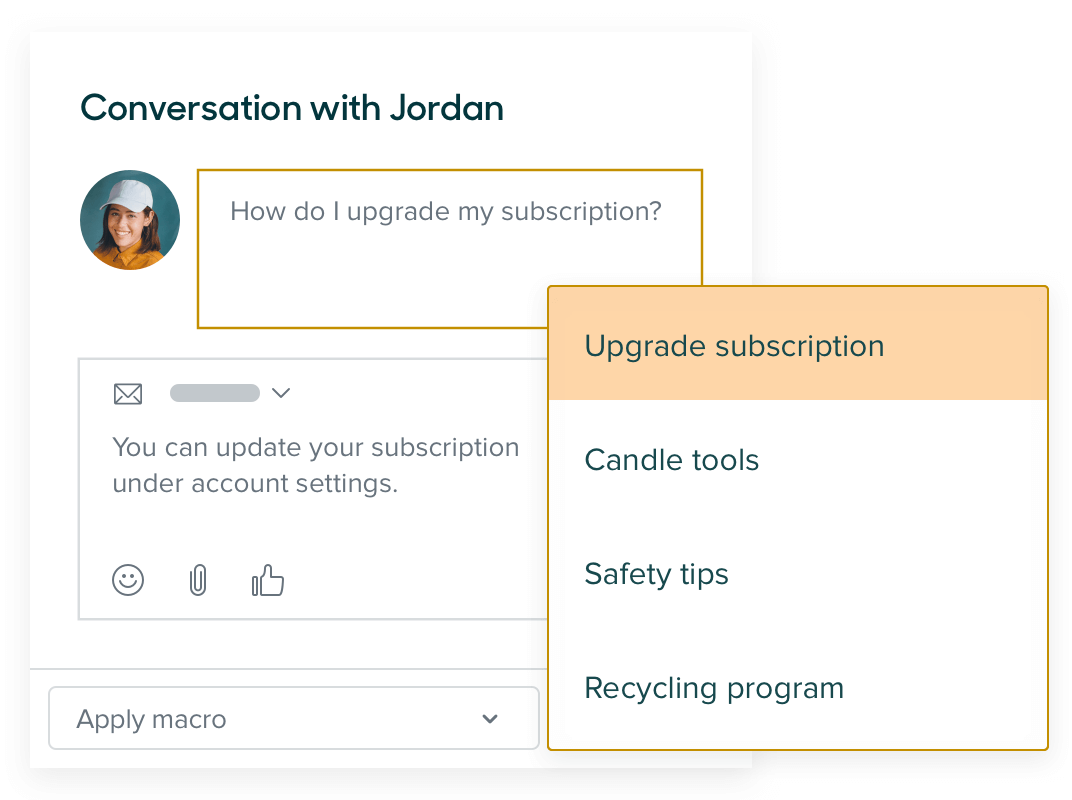 Programme details
Everything you should know
Before you apply, there are three prerequisites to ensure you qualify:
New Zendesk customer

Previous or active paid customers do not qualify for the Zendesk credit offer, but you can still access our community, events and training

Fewer than 50 employees

Raised outside funding (Angel, Pre-seed, Seed and Series A rounds are welcomed)
The Startups Programme
Get unlimited access to all Zendesk products, build connections in our community and learn best practice from our very own experts.
Free for six months
Need more information? Check out our FAQs
After the programme, you can pick from pricing plans starting out at
$49

/monthly
Suite Team
Get the fundamentals right. Deliver support across any channel, all from one place.
Suite Growth
Go further with a little extra help. Tap into self-service and more automations.
Most popular
Suite Professional
Work even better together. Get deeper collaboration, routing and analytics.
Programme Alumni
Brands which trusted Zendesk from the start
"CX has been a top priority for Freshly from day one. As soon as we shipped our first meal, we knew the questions, comments and concerns from our customers would immediately follow. How we dealt with those touchpoints would define our reputation as a customer-first brand."
Michael Wystrach
96%
Customer satisfaction rating (CSAT)
"By implementing Zendesk tools, our support agents solved an average 3,870 tickets per month, 91.93% of them being one-touch tickets, and with an average self-service ratio of 1.23."
Lydia Freeman
"Impossible Foods is full of people who came from tech and, when they arrived, [they] were asking 'Where is the data?' So Zendesk became such a treasure. We collect tens of thousands of pieces of feedback every year for our product team, which is massively helpful to them and also gives our consumers a voice at the table."
Gabrielle McCobin
"Before Zendesk, we were wasting time hunting down information and building one-off tools to serve customers and partners. Now, we have a solid foundation for our global growth."
Gib Lopez
Startup partnerships
It takes a village
We work with world-class investors, accelerators and technology partners to set up their startups for success. Startups which sign up through our partners unlock exclusive Zendesk benefits.
Partner with us
Frequently asked questions, answered
Qualifications and approval process
What do the Zendesk for Startups Programme credits cover?
Zendesk for Startups provides a monthly credit for six (6) months of up to fifty (50) Agents, redeemable for any combination of Zendesk Support, Sell, Talk, Chat, Guide and Explore products, for free. Consulting Services, add-ons, integrations and Zendesk Talk minutes are not included. Use and access to Zendesk Services under this programme shall be governed by Zendesk's Master Subscription Agreement and other applicable policies located on our website.
What are the programme requirements?
Programme requirements are as follows:
Must be a brand new Zendesk subscriber (previous or active paid customers may not participate)
Must have fewer than 50 employees
Must have raised up to Series A in venture funding
How do I find out if I'm approved?
Once you've successfully applied, Zendesk will reach out via email updating you on the status of your application and details needed to get started.
If I'm denied approval, what else can Zendesk offer?
If you do not qualify for the Zendesk for Startups Programme, please feel free to create a trial and access our flexible pricing options located here.
How do I activate the promo code?
What if I'm part of an accelerator or VC?
If you are part of an accelerator or VC, then you may qualify for some additional benefits by applying through the link they provide. Please contact your accelerator or VC to see if they are a Zendesk partner. If not, they can apply to our partner programme here.