Customer Self Service
The best customer self service portal
Help your customers—by letting them help themselves.
A guide to providing best customer self service
Customers like solving their own problems. It's faster and easier than reaching out to a customer service representative, and provides them the opportunity for independence and initiative. However, implementing a cohesive self-service system into your customer support can be a challenge.
Below, we'll go over some of the biggest issues surrounding customer self-service software, and how you can make the adoption process as smooth as possible to create a happier, more satisfied customer base.
Feel free to skip around by clicking through the table of contents below:
What is customer self service?
Customer self service is a tool that lets customers search for answers to their questions without having to reach out to a physical person. Customer self service is support that allows users to find solutions themselves often through a knowledge base, chatbot, or automated task management platform. It's a collection of knowledge organized in such a way that it makes searching for and interpreting answers fast and easy.
Self-service software isn't a complete replacement for customer service. But it is a valuable time-saving supplement that customers and service reps alike can appreciate, especially if it's neatly laid out and easy to navigate.
Why should you use a customer self service portal?
As a business, your customers are your most valuable asset. Keeping them happy and satisfied with your product is key to maintaining a loyal customer case. Self-service portals provide your customers with a sense of control over the products they've purchased, so they can quickly solve problems before deciding to complain about your product to friends or on social media. It also shows your level of commitment to customer satisfaction.
The truth is, you don't have to have a self-service portal. But when you do, it displays a level of respect and care for your customers that could be the deciding factor that pushes them to choose you over the competition.
If you have a self-service portal, do you still need customer service representatives?
Yes. There will always be some customers who prefer speaking to a person. But customer self service tools greatly reduce the wait time for customers who need guidance from your representatives, giving you a better overall customer service experience, and fewer frustrated clients.
What does customer self service require?
To help your customers reach the best possible answers to their questions, your customer self service page needs three things: knowledge base articles, community forums, and a ticketing system.
A library of knowledge-based articles

Your customer self service portal should include a searchable collection of FAQs, user guides, how-to articles, and other resources covering the full range of your product's abilities and components. The search bar should be clearly displayed, as it's the easiest and most obvious tool for finding answers. From the search bar, your customers can sift through your entire library of resources until they find the solution to their particular problem.

A community forum


Whatever issues your customers have with your product, it's more than likely that someone else has had that same problem before. And just as with product reviews, some customers tend to trust other customer experiences more than your representatives.

Your customer service representatives understand your product and how it works. But sometimes the best guidance comes from someone who doesn't speak the company's language. Customers understand each other's needs better than anyone, and a community forum is a fantastic way to let them provide peer-to-peer support by sharing their experiences.

A hub for viewing, updating, and submitting tickets

If the knowledge-base library and community forums don't turn up answers, your customers can also use the customer self service platform to submit help tickets. A ticketing system allows your customers to describe their problem in detail to a representative without spending time on the phone. It also keeps a record of past tickets, so everyone can see how close the problem is to being solved, and how long it's taken.
What are the benefits of customer self service platforms?
Customer self service platforms are a simple tool with big benefits. You often see them included as features of CRMs and help desk software. With the right customization and interface, you'll begin to notice the benefits of giving your customers more power over their purchases.
Reduced customer frustration

Customers tend to become frustrated when they get confused using a product they've purchased, and sometimes those frustrations end up in negative reviews that other prospective customers can see.

Having a customer self service portal is a good way to head off many of those frustrations. It gives customers an easy way to solve their problems before the issue spirals into "I-must-write-a-negative-review" territory. If the problem can be solved quickly and with minimal effort, your customers won't have time to let their frustrations fester and grow. If anything, their annoyance will transform into satisfaction when they see how easy you've made it for them to solve their own problems.

Speedier person-to-person interactions

If everyone who has an issue with your product had to call in to get it fixed, the wait to reach a representative could be hours long. And with every minute spent on hold, customers become justifiably less satisfied with your company.

Self-service software significantly reduces wait times for people who truly need a person to help them over the phone. If a question can be answered with a quick search, there's no reason to make that person wait for hours for a simple two-minute conversation. Implementing a self-service portal minimizes wait times for those who do need to call, and boosts your company's ability to provide fast and responsive customer care.

Reduced customer service workload

Your customer service representatives already have a lot on their plate. Letting customers solve their own problems reduces your service reps' workload, allowing them to spend more quality time on the harder-to-solve issues.

Rather than constantly calling your representatives for updates, customers can check the status of their tickets on their self-service portal so they know exactly when their issue will be resolved. This saves your customer service reps from fielding the same questions over and over again, which can drag down their productivity and morale.
Save money and time
With a self-service system in place, you'll save time and money while still meeting customer expectations. Customers aren't paying you per interaction, but you're still paying your customer service reps for their time and talents. Having a self-service portal is a smart strategy for building a more satisfied customer base and a more time-efficient customer care workforce.
What makes a good self-service portal?
There may already be online forums where people are discussing your product and swapping solutions, but you have no control over those forums. Having a self service portal through your company's help desk software gives you control over how your customers seek help and what they see. But to make sure people are going to your self-service portal, and not some random forum, you'll need to set a few standards:
You understand your customer's issues
Your customers aren't a monolith, but many of them will experience the same struggles and questions. A good self-service portal will make it clear that you know using your product isn't perfectly intuitive for everyone. You don't have to talk down to people searching for answers, no matter how simple or straightforward their problem is. Make it clear that you know exactly what problems have arisen before, and be respectful in guiding them to the answers.
A clean and easy-to-use interface
Anyone looking at your customer self service page should know exactly what steps to take to find their answers. Information must be clearly categorized, linked, and searchable. Of course you can still keep some branding elements on your page, but the first and most important objective is to make it easy to use. Remember, the people visiting your self-service portal are there because they're already experiencing a problem. You don't want to put up another hurdle by having a cluttered or confusing self-service page.
Simple, straightforward language
People want answers fast. When customizing your customer self service software, don't try to add personality or humor. Even if your brand's voice is humorous or personality-driven, leave it for the other parts of your website.
Make all titles and articles short and easy to read. Include images, graphics, or step-by-step instructions. The whole point of posting the information is to make problem-solving fast and easy, so simplicity will be your best friend.
A commitment to improvement
As you expand your product line or update existing products, your self-service portal will have to be updated as well. Your self-service portal isnt just a helpful tool for your clients, it's also a valuable tool for you to narrow down recurring product issues. Make sure you're consistently vetting your self-service portal and community forums. Your first stab at a self-service portal isn't going to be perfect or complete—you have to keep expanding and improving your content as your company grows.
What are different types of customer self service?
A knowledge base
A knowledge base is a collection of free information about your product. It can contain written or video tutorials, user guides, and graphics that help your customers troubleshoot issues with your product. It should be easily searchable, so prospective and existing customers alike have no trouble finding what they need.
An automated task management platform
An automated task management platform processes requests for information without getting a person involved. Here, your customers can check on or update their personal information with your company. If your business provides a service such as classes, your customers can use the automated task management platform to reserve or cancel bookings.
A mobile app
More often than not, people don't want to call a customer representative, even when holding a phone in their hand. Having a mobile app makes it easy for people who are on-the-go to find the answers they need, as long as your mobile app is clearly organized and easy to navigate.
A chatbot
A chatbot is a computer-based system that uses artificial intelligence to simulate human conversation. When visitors come to your website, they may not have the time or patience to search for exactly what they need. Chatbots serve as a customer support function that engages with customers to answer questions, point them to their desired products, and even guide them through the purchasing process.
How do you make a self-service portal?
The best customer self service software should include a self-service portal as a key feature. But you'll have to customize it yourself. Your customer service representatives will be your best asset when customizing your self-service portal, so be sure to solicit their input about which questions they're most commonly asked, and what methods they suggest to solve these issues.
Keep the search bar front and center
The search bar is the ultimate tool for finding answers. However you choose to configure your customer self service portal, always keep a search bar in plain sight. As your customers look through your knowledge base and forums, it's likely that their first question will lead to another. Every page of your portal should have a search bar so they don't have to navigate back to the main page to enter another inquiry.
Clearly categorize everything
Sometimes your customers already have an idea of where their problem is stemming from. Giving them a categorized list of common issues or components lets them narrow their scope down gradually. This is especially important if you have more than one product or service.
Link your articles together
One of the problems your customer may have is that they don't even know what the problem is. Linking your articles together lets them work their way down the rabbit hole, narrowing their focus until they finally arrive at the question they were meaning to ask in the first place.
Provide a way to contact your representatives
Even with all the help you've provided, sometimes customers give up and realize that the answer isn't there. Providing a way to contact you on every page—with a ticketing system, email, or phone number—reminds them that someone is still around to help if they need it.
Best customer self service portals
Zendesk




Zoho Desk




HubSpot Service Hub




Hiver




Intercom



Salesforce Service Cloud




LiveAgent




Gladly




Freshservice




Document360



Zendesk Suite is the ultimate tool for customer self help and convenience. With AI powered bots, multiple avenues for fast-response messaging, and a fully integrated help center, Zendesk Suite allows you to empower your customers with everything they need to seek their own answers. You'll also see vastly improved efficiency from your agents, who can use Zendesk's agent workspace to track and prioritize customer needs quickly while still delivering a personalized touch.
Zendesk Suite's customizable self-service software lets you create fast and easy-to-use portals for your customer base. It also hosts powerful analytics tools, so you have the best possible data to consistently update and refine your customer self service tools.
Free trial length: 14 days
Features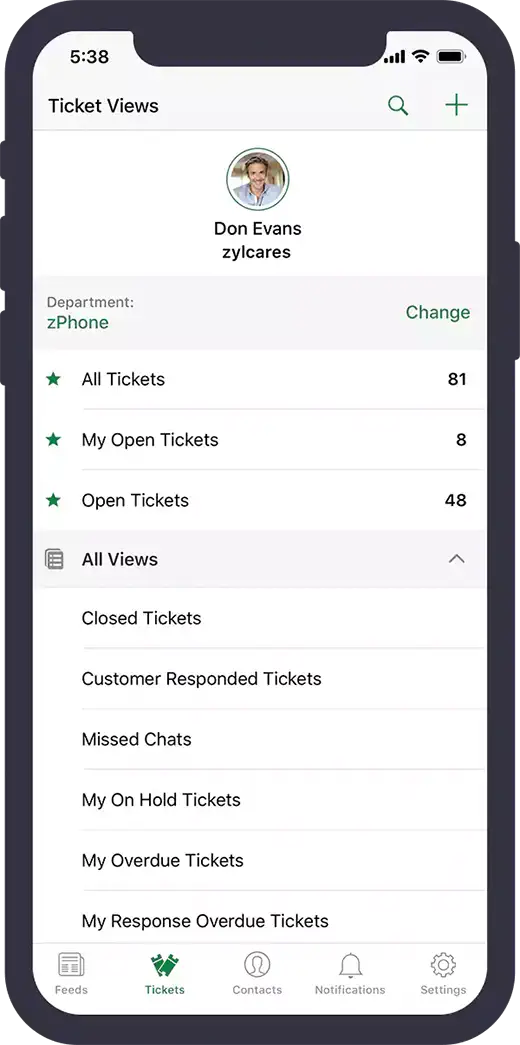 Zoho Desk is a context-aware cloud-based customer self service tool, featuring a knowledge base and Contextual AI. Zoho's omnichannel function allows users to converse across multiple channels, including email, phone, social media, and websites. It also provides workflow automations for managing cross-functional processes, letting users visually assemble sequences with its drag-and-drop Blueprint Builder.
Free trial length: 15 days
Features
Batch communications
Canned responses
Issue scheduling
Community management
Customer complaint tracking
HubSpot Service Hub offers flexible support features like website live chat, help desk and ticketing, and reporting dashboards for providing actionable data to improve customer service.
Along with its customer service features, HubSpot Service Hub claims to improve collaboration within your organization by providing 1:1 video messaging tools and team management features. HubSpot also offers customer feedback survey building, allowing users to solicit customer reactions to their current service standards.
Free trial length: 30 days
Features
Ticket management
Transfers/routing
Real-time chat
Queue management
Multi-channel communication
Learn more about Zendesk for Hubspot
Hiver is a help desk built specifically for Google Workspace. Hiver allows users to convert emails into actionable tasks without exiting their Gmail browser.
Using Hiver's email delegation feature, users can reduce inbox clutter by assigning emails to dedicated owners, who receive real time notifications when a new task is sent their way. Hiver also offers team collaboration tools, with its notes and mentions function for roping agents into the conversation once its content becomes relevant to their workflow.
Free trial length: 14 days
Features
Automated routing
Collaboration tools
Macros/templated responses
Remote support
Real-time chat
Intercom is a Conversational Relationship Platform (CRP) with customer support provided through bots, personalized messaging, and chats. Intercom's platform includes a conversational marketing feature, which incorporates the use of customizable online chatbots that inspire website visitors to engage in real-time conversations.
Intercom also offers what they call "product tours," which offer proactive guidance to walk customers through sign-ups. It also has onboarding features like one-off messages and integrated campaigns, complete with in-product messaging and customizable banners for the top of your app or website.
Free trial length: 14 days
Auto-responders
Multi-channel communication
Event triggered actions
Proactive chat
Transfers/routing
Learn more about Zendesk for Intercom
Salesforce's self service platform promises end-to-end engagement for customers to solve problems using messaging, community data sharing, and network monitoring. With multiple digital channel integrations, Salesforce users can seek out answers using mobile messaging, web chat, and social networks like Facebook, Twitter, and Instagram.
Salesforce's AI service, Einstein, is built into Service Cloud, allowing users to guide customers through multistep actions, check their status claims, and change orders. Salesforce also offers remote assistance options that allow customers to book phone and video appointments using their customer portal, reducing the need for in-person visits.
Free trial length: 30 days
Features
Automated routing
Real-time chat
Self-service portal
Performance metrics
Queue management
Learn more about Zendesk for Salesforce
LiveAgent provides real-time chat options, a customer service portal, and a built-in call center. With 130+ ticketing features and 200+ integrations including Gmail, Shopify, and Squarespace, LiveAgent promises an all-in-one help desk solution for small to enterprise-level businesses.
LiveAgent's chat widget watches website visitors carefully to determine the best time to initiate a conversation. Additionally, LiveAgent's cloud-based call center software offers features like callbacks, interactive voice response, video calls, and automatic call distribution.
Free trial available: 14 days
Features
Blended call center
Batch communications
Full text search
Issue tracking
Self-service portal
Gladly is a Personal Customer Service Platform for SMBs and large B2C companies offering computer telephony integration and customer complaint tracking. Gladly's platform allows for customer conversations across a range of channels, including text, in-app chats, IVR, and social media.
Gladly's conversation timeline allows users to collect a customer's entire conversation history into a single view, eliminating repetition and allowing for faster responses. Additionally, Gladly offers a collaborative task management feature to let team members set reminders, create and assigtasks, and get updates on the progress of open tickets.
Free trial length: information not provided by vendor
Features
Self-service portal
Chat/messaging
Feedback management
Issue tracking
Batch communications
Freshservice is a cloud-based IT Helpdesk platform used by education institutions, financial organizations, and government organizations. Freshservice's artificial intelligence feature, "Freddy", aids agents in reducing their workload and lowering handling times with intelligent classification and prioritization.
Freddy AI also includes a "thank you detector" feature that allows users to analyze responses to incoming tickets, so out-of-office messages and generic "thank you" messages don't negatively impact your metrics. And with Freddy's Natural Language Processing (NLP) engine, agents can request metrics in plain English and receive them in the form of easily readable reports and tables.
Free trial length: 21 days
Features
Multi-channel communication
Network monitoring
Issue tracking
Full text search
Feedback management
Designed specifically for growing companies, Document360 specializes in knowledge base building. Its knowledge base portal, built for use by editors and reviews, offers a state of the art editor and category manager for producing self help content. It also provides customers and employees a simpler knowledge base site, with an optimized search engine that allows for reading on any device.
Document360 also provides tools for building FAQ pages, online user guides, and standard operating procedures for creating employee handbooks.
Free trial length: 14 days
Features
Collaboration tools
Content management
Self-service portal
Discussion forums
Full text search
Learn more about Zendesk for Document360
Summary of the best customer self service software
| | Self service portal | Full text search | Ticket management | Live chat | 24/7 live rep support | Android | iPhone |
| --- | --- | --- | --- | --- | --- | --- | --- |
| Zendesk | ✓ | ✓ | ✓ | ✓ | ✓ | ✓ | ✓ |
| Zoho Desk | ✓ | ✓ | ✓ | ✓ | ✓ | ✓ | ✓ |
| HubSpot Service Hub | X | X | ✓ | ✓ | ✓ | ✓ | ✓ |
| Hiver | ✓ | X | ✓ | ✓ | ✓ | ✓ | ✓ |
| Intercom | ✓ | X | X | ✓ | X | ✓ | ✓ |
| Salesforce Service Cloud | ✓ | X | ✓ | ✓ | ✓ | ✓ | ✓ |
| LiveAgent | ✓ | ✓ | ✓ | ✓ | ✓ | ✓ | ✓ |
| Gladly | ✓ | X | X | ✓ | ✓ | X | X |
| Freshservice | ✓ | ✓ | ✓ | ✓ | ✓ | ✓ | ✓ |
| Document360 | ✓ | ✓ | X | X | X | X | X |
How to choose the right customer self service portal
Start by talking to your customer service team. Solicit feedback about their work, the most frequent questions they receive, and what tools would make their lives easier. With the answers they give, you'll have a better understanding of the features you should look for when shopping around for a self-service portal provider. You can also explore:
Are there already community forums talking about our service/product?
What are the most common issues our customers are experiencing?
What's the current wait time on most customer service calls?
Would having videos and/or other media help solve customer issues?
Keep in mind that having a customer self service portal alone isn't going to fix all of your customer problems right off the bat. Finding the sweet spot will take time and powerful analytics features to help you make data-driven improvements.
Frequently asked questions on self customer service
What is a self-service strategy?
A self-service strategy is a multi-pronged approach to solving customer issues. Remember that not everyone learns the same way, so you need to set up several routes for customers to find their answers. That may involve having visuals and videos, AI chatbots, or CRM integration. Talk to your customer service reps about how to develop the best content for your knowledge base and FAQ sections, and build a strategy from there.
What can you do to make your self-service customers know you value them?
The best thing you can do is make the process of self service easy and fast. Making the entire process painless, from asking the question to getting an answer, proves that you value their time and sanity as much as your own.
What are some disadvantages of customer self service?
The only disadvantages of customer self service software come from how you use it. If you lean too much on customer self service and pull back from person-to-person support, you risk frustrating those customers who appreciate a more personal touch.
Ready to try a self-service portal for free?
Test drive Zendesk's powerful customer self service options for free with our 14-day trial. Zendesk's intuitive interface lets you customize your help center theme, and offers multi-channel messaging options that encourage your users to engage with you over their preferred social media channels. It won't take long for your customers to feel the benefits of having more control over solving their own issues. At the same time, your agents will appreciate the convenience of being able to respond to customer needs from one unified workspace.
Tap into more knowledge
There's plenty of information about customer portals and self-service options. Read these resources to learn more.